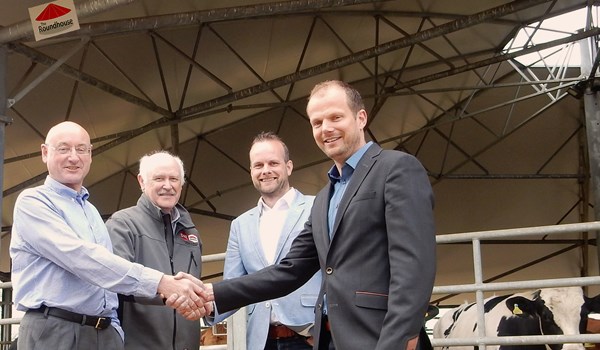 ID Agro is proud new owner of Roundhouse!
In the past month ID Agro finished the deal with the S&A Group in England and has become the proud new owner of the Roundhouse brand and design. Since its invention by Geoff Simpson and John Allinson, over 100 Roundhouse buildings have been installed. Firstly, mainly within the United Kingdom but gradually the European mainland became acquainted with the revolutionary livestock building as well. ID Agro –well-known for their own innovative housing systems for the livestock sector – first acted as distributor, selling Roundhouse Buildings in Germany, Denmark, the Netherlands and even Lithuania. 
Potential
Erik Lindeboom and Marco Noordman, the founders of ID Agro,  believe in the potential of this unique building with its distinguishing features in terms of animal welfare and handling. They are therefore very pleased to have been able to seize the opportunity to buy the intellectual property of the building, giving them full ownership of the Roundhouse brand within Europe. 
Design
Geoff  and John are both very pleased with this next step for the Roundhouse Building. ID Agro has extensive experience in the development of innovational concepts for livestock buildings. "We believe Marco and Erik, will be able to take the design of the Roundhouse to the next level ", explains Geoff.
ID Agro now has the opportunity to further develop the concept of the Roundhouse and explore its many possibilities. A proces that was already started with the construction of the first Roundhouse 45 for dairy cows in Europe.